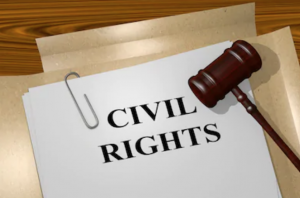 Civil Rights laws exist to uphold American democratic values. Often discussed in the media, but rarely defined, civil rights laws protect individuals from infringement by fellow private individuals, governments, or
organizations, such as schools or businesses. Civil rights may be difficult to articulate because of their broad nature.
Outlined in the 1948 Universal Declaration of Human Rights, civil rights ensure an individual's ability to participate in civil society without fear of discrimination. They refer to a class of rights, which uphold individual's safety and mental integrity; protection from discrimination based on race, gender, gender identity, national origin, age, political affiliation, ethnicity, religion, sexual orientation, and disability.
This class of laws upholds individual freedoms, including freedom of press, speech, assembly, movement, and thought. It also ensures procedural fairness, such as the rights of the accused (right to a fair trial; due process; and right to seek redress). The attorneys at
Sam Adam Jr. Law Group
understand the importance of Civil Rights Law and will fight for your rights with their decades of experience.
In the United States, the "Civil Rights Movement" encompassed several social movements that occurred between 1954 and 1968. Up to 1957, Congress failed to pass a civil rights bill. When they were finally passed in 1957 and 1960, the law offered minimal protection. However, the 1957 Act commissioned a congressional group to investigate civil rights issues, which supplied the President with recommendations.
In 1963, social pressures – televised political classes between nonviolent protesters and officials, the Birmingham 16th Street Baptist Church bombing, the murders of civil rights activists Medgar Evers and William L. Moore, the murder of John. F. Kennedy, and the March on Washington – intensified the need to address the equal application of civil rights protections in the United States. These efforts resulted in the Civil Rights Act of 1964, which prohibited "exclusion from participation in, denial of benefits of, and discrimination under federally assisted programs on the ground of race, color, or national origin." Laws, amendments, or past judicial cases uphold various civil rights, which can vary between states and municipalities.
Civil Rights Act of 1964
Voting Rights Act of 1965
Age Discrimination in Employment Act (ADEA) of 1967
Loving v. Virginia, 1967
Fair Housing Act of 1968
Section 504 of the Rehabilitation Act of 1973
Age Discrimination Act of 1975
Americans with Disabilities Act (ADA) of 1990
Obergefell v. Hodges, 2015
Civil Rights Law is American law, and Sam Adam Jr. Law Group is dedicated to protecting all Chicagoans from violations of their rights.
Differences between Civil Liberties and Civil Rights
Civil rights, different from civil liberties, refer to the fundamental rights to be "free from unequal treatment based on protected characteristics," while civil liberties are applied more broadly and include first-generation rights.