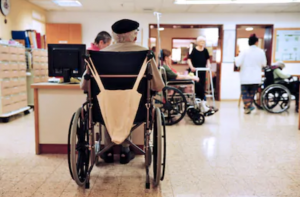 More Americans are living longer than ever before thanks in part to improved medicine and food. As a result, more people live in nursing homes today than in previous generations. According to the National Center on Elder Abuse,
it is impossible to know exactly how many elderly people suffer abuse in nursing homes, but as many as ten percent of respondents imply abuse has occurred.
Among other requirements, U.S. Federal law requires that nursing homes "provide a safe, functional, sanitary, and comfortable environment for the residents, staff and the public. The facility must – (1) [e]stablish procedures to ensure that water is available to essential areas when there is a loss of normal water supply; (2) [h]ave adequate outside ventilation by means of windows, or mechanical ventilation, or a combination of the two.Source
The Sam Adam Jr. Law Group is dedicated to protecting the rights of all Americans, especially those among the most vulnerable: the elderly. The attorneys at the Sam Adam Jr. Law Group have decades of experience to assist with claims of Nursing Home Abuse.
What is a Nursing Home Abuse claim?
Nursing homes can be held responsible for injuring inhabitants in a variety of ways. An act of neglect, exploitation, or abuse of a senior may trigger a chain of proceedings. First, a nursing home abuse claim might require an adult protective service agency to investigate. A lawsuit can be filed in response to secure damages, or a criminal prosecution might occur. Each reflects different objectives.
Civil actions against a nursing home can arise from:
Negligent personal care and supervision
Negligent employment or retention of guilty employees
Negligently maintained premises that cause further harm
Neglient maintenance or choice of medical equipment
What are the elements of a Nursing Home Abuse claim?
Burden of proof, which confirms the plaintiff's claim of duty.
Breach of duty, which sometimes offers an expert medical testimony about any deviations from established "standards of care."
Breach of contract, which reveals a nursing home's inability to meet the terms of the contract in which the plaintiff originally entered, but suffered injury.
Standard of care, which establish minimum standards of care for private nursing homes.
Causation, which refers to a patient's ability to show the medical or healthcare professional deviated from the standard of care. Since defendents sometimes argue that a nursing home did not cause an injury, plaintiffs must prove that the senior's injury was not inevitable due to a preexisting condition, complications, or advanced age.
Damages, which may include: pain and suffering and medical expenses incurred to address negligent medical treatment.
The laws concerning nursing home abuses vary across the United States, as do damage caps. While nursing home abuse prosecutions are historically infrequent, the charges can be very serious. For instance, failure to provide residents with enough or nutritionally adequate food, failures to keep them reasonably clean or prevent bedsores have resulted in criminal convictions. The definition of abuse varies widely amongst states, some requiring physical contact that harms a senior patient. However, in some places, verbal abuse and threats do not constitute nursing home abuse according to state code.
Nursing Home Abuse Lawyers in Chicago
The team at Sam Adam Jr. Law Group reflects decades of experience navigating nursing home abuse claims in order ensure that their clients secure the best outcomes available for their claim.
Contact Sam Adam Jr. Law Group
 today for a consultation.